RPG Tsukuru DS - Sample Game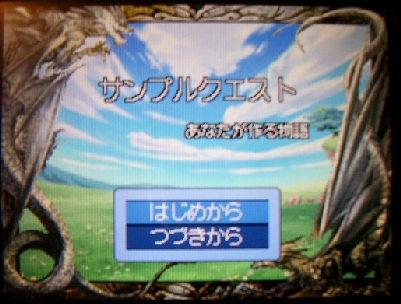 That's its title screen up there. Don't know what it's called. But there you go.
Looking at it's data, it's really basic. 4 maps. 2 towns, 1 forest, and one cave-type dungeon.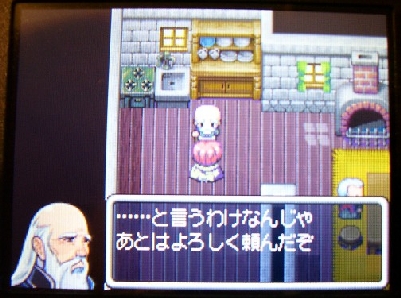 You start out here, talking to this guy about... something. Lame. let's go outside.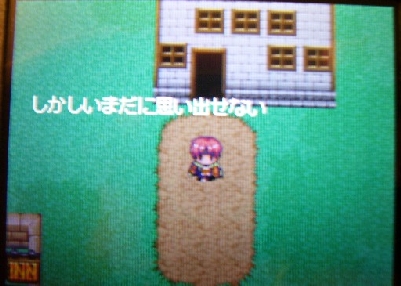 Sky words. Also, the world seems kinda blurry and slanted. My camera is not getting along with the DS Lite screen.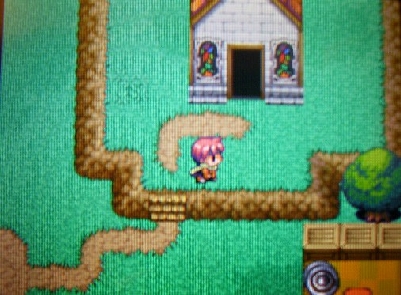 Elevated terrain, path, stairs, basic stuff. but it looks nice.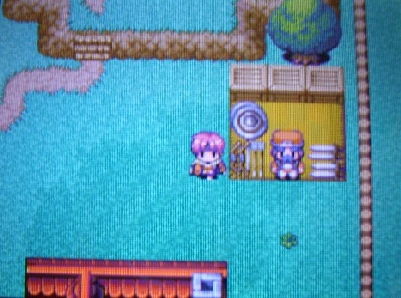 This guy on the rug sells healing items, armor, and weapons.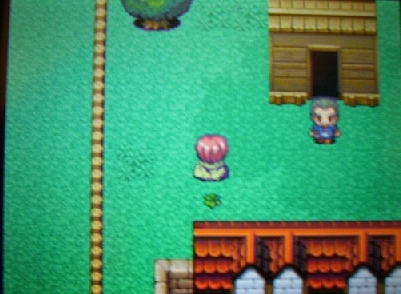 All over the sample game, you come across this. People standing in front of doorways, keeping you from getting in. It's annoying.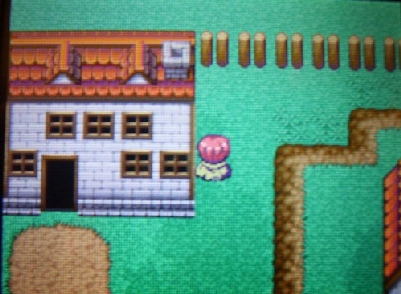 House detail. The one we started in. Maybe our character's house.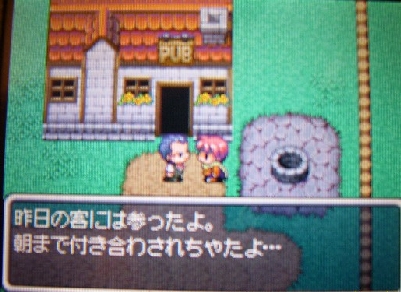 A pub. You can't go in. But if you're thirsty, there is a well provided. you cannot interact with it. suffer.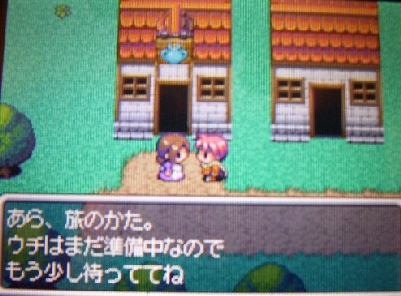 Again, another building we can't go in. this is really annoying. There's even SHOPS in this town that are being blocked by people. It's a good thing that guy on the blanket is there for us.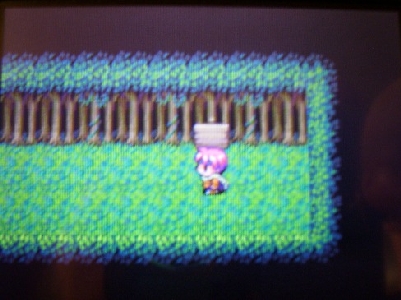 Let's leave the town. It's full of horrible people. Yay woods!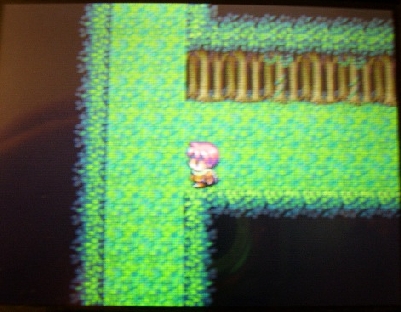 Branching path. Let's go down.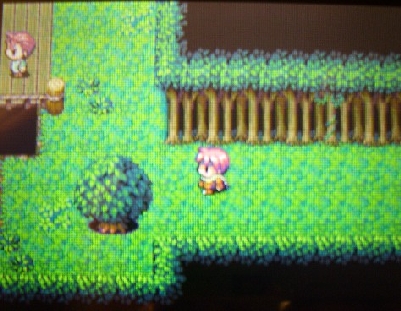 BRIIIIIIIDGE.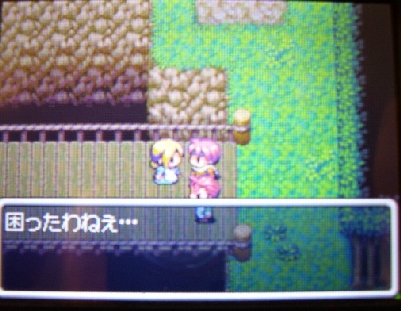 EVEN THE BRIDGE IS BLOCKED.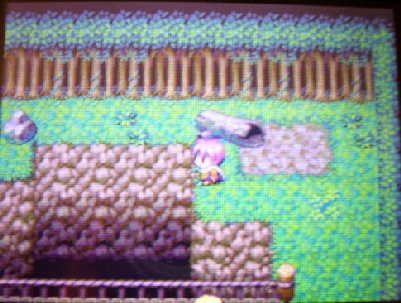 No way around! This is again, very annoying. Let's go back to the branching path and go up.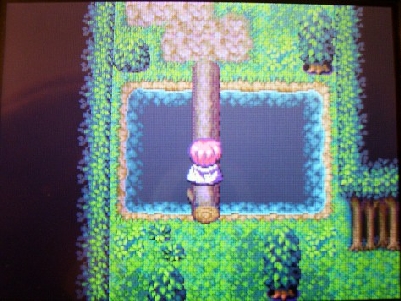 HA. The log bridge does not deny us.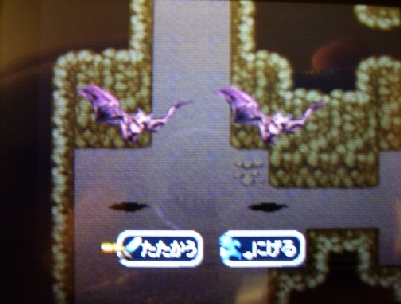 It brings us to a cave! With bats! and goblins. The most gold you can get from an enemy is 13. You start with 300. The not-awful sword back on that blanket store? 1000 gold. You arent buying ****. ever.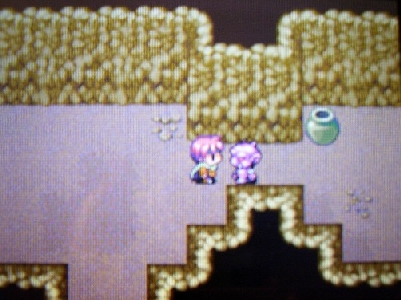 Going past the bats and lesser goblins which I forgot to show, we come to this goblin fellow blocking our path. he talks. he fights.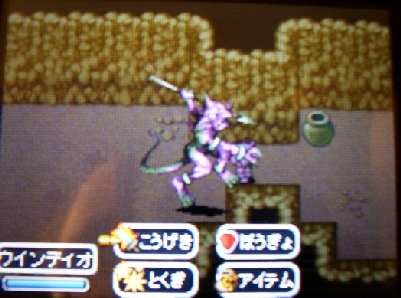 Basic battle options. attack, magic, items, defend. the only magic you have heals you. your attack does about 13 damage to him. after you hit him a few times, he permanently shifts to healing around 15 HP per turn. meaning you are not getting past him. I've run this battle for a long time, and you seriously cannot do anything to him. So this is as far as I have been able to get in the sample game. Being a smart man, I give up rather than beat up bats for hours to level up and just overpower him.
From what I've been able to play, this is the worst RPG Maker sample game. Looking at the data, it's tiny. four maps. you can't actually go anywhere in the town the game starts in. you can't get past this dork. Well, you probably can, and it's probably explained perfectly to you. In japanese. which I can't read. so yeah, the game sucks for me.
There's two more things I can show.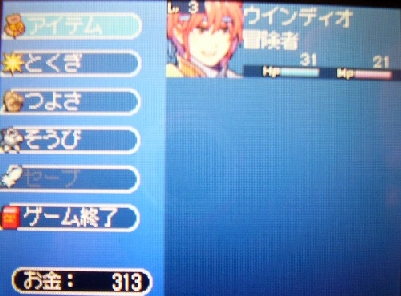 Behold. the menu.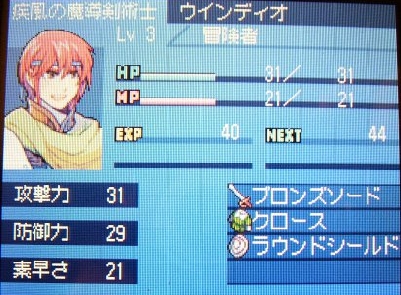 Behold, the status screen.
I really wish there was more to say here. My last import feature was RPG Tsukuru 4, and the sample game was still in japanese, but even for us english speakers, there was a LOT to be impressed with in there. This sample game, no matter the language, does a bad job of showing off the game's abilities.