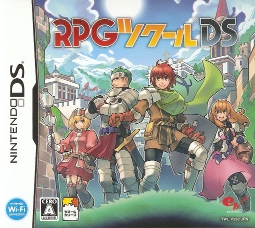 RPG Tsukuru DS - Introduction
RPG Tsukuru DS is the newest installment in Enterbrain's long-running RPG Tsukuru frachise, and the first installment to appear on the current batch of game systems.
The game has recieved quite a bit of hype in the community, mostly due to it being almost five years since the US has recieved a non-PC RPG Maker title. What kind of RPG Maker is it? Is it any good? How do you share games? I'll be going over all of that.
First, I need to let everyone know a few things. This is a completely japanese game, and outside of my familiarity with how RPG Maker software usually flows, I cannot understand more than a handful of words. I cannot tell you what event options are available, I cannot tell you what kind of magic effects are available. It's just not possible to figure out without an understanding of the language. Also, this is a DSi enhanced game
(I believe that is the reason the label on the game card is black, to let you know about this.
) and uses the camera to import images into the game. I am unable to test this. It turns out DSi enhanced games have regional lockout when played on the DSi. When inserted, it just insists there is no game card in the system. But the DS Lite plays the game fine. Keep this in mind if you're thinking about importing it. Finally, I am playing the actual game card on an actual DS Lite, so I am unable to do normal screenshots. All images within this feature have been taken with a camera, on macro mode, with no flash. The image quality is not perfect. the angles are not perfect. But it should be good enough. This is the best I can manage without doing something illegal, or physically modifying my DS.
There are currently no plans to bring RPG Tsukuru DS to America. If this situation changes, I will let you know immediately. If you want this situation to change, I urge you to let Agetec know. They were the US publishers for RPG Maker 1, 2, and 3. They know us, they care about us, they listen to us. So speak up. Write letters, post on their forums. You can't be silent and just hope someone thinks you might want it.