How to use PS3 format saves
Written by Valkysas
Requirements: Playstation 3, PC/Mac with USB ports

This is incredibly easy to do, but can be confusing the first time you try it. So I've created this guide to help you along the way. Got a PS3? got a computer? Then you've got everything you need. no more screwing around with max drives and dex drives for you! Oh, wait. You still need one more thing.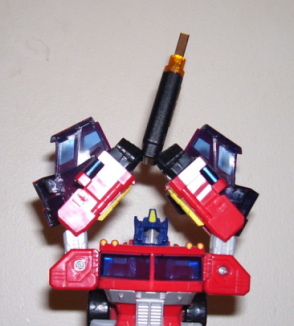 That is correct, Optimus Prime! You need a PS3 compatible storage device. Some PS3s have card readers, but not all. Every PS3 has USB ports though, so we'll be using a USB thingy!
Connect whatever device you are using to your computer. If your computer does not have card readers or USB ports, discontinue reading this article and go cry. Once it is connected to your computer, create the following folder structure on it. PS3>EXPORT>PSV. Yes, all caps. The PS3 demands it. So to put it in very simple words, plug your device in, as soon as it shows up on your screen, make a PS3 folder. do not put the PS3 folder in anything else. inside the PS3 folder, make an EXPORT folder. inside the Export folder, make a PSV folder. Now leave the PSV folder open, and wait.

Obtain a game that has the "Download PS3" option.
Using your computer, go download a PS3 format game from our archive. Not all RPG Maker games are available in the PS3 format, but a lot of them are. Download one. They're in zip archives.

Unzip it. This can be done many ways. One is all lit up for you in the above picture. You cannot claim confusion as an excuse!
After unzipping it, dig through the (1) folder(s) until you come to the delicious PSV file within. Feed it to your PSV folder that has been waiting since this article began. Drag it (not) kicking and (not) screaming all the way into the beast's mouth!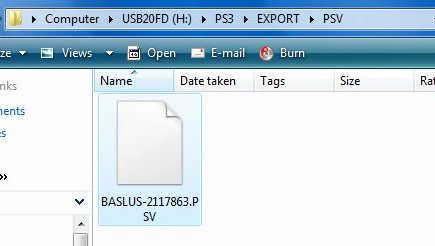 EAT
Lets finish this up in a cluster of sentence fragments, shall we? Close the window of the storage device. unplug it. go connect it to your PS3. turn the TV on. turn the PS3 on. turn the controller on, perhaps at the same time you turn the PS3 on. go to the memory card utility. scroll to the top. see your device. select it. see the save within. press the triangle button. copy it to a memory card file. declare victory.
If you didnt see your file, you did something wrong. I didnt. read the article again, try to pay attention this time.
You can only transport one file from each RPG Maker title at a time, since they all have the same file name unless they were saved in a different slot (this is rare). You will be making multiple trips. Especially for multi-card RPGM1 games.