History of RPG Maker
Part 3 - Playstation 2
With the arrival of the Playstation 2, Enterbrain (
formerly ASCII
) wasted no time getting to work on the first PS2 installment in the series. With the success of RPG Maker in the US, Enterbrain decided that they would not only have Agetec assist with development (
to ensure a smoother localization later on
), but also consult us, the RPG Maker Pavilion community, on what to include in the game. The jury is still out on if that was a smart thing to do or not.
-RPG Maker 2 / RPG Tsukuru 5-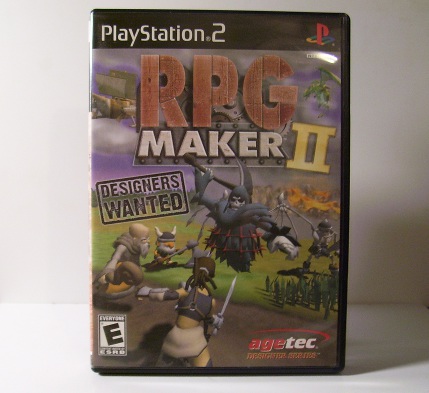 RPG Tsukuru 5 was released on August 8th, 2002. Agetec released it a year later, on October 28th, 2003. Despite the hopes of a smoother translation process, the in-game help menus proved to cause a lot of problems, and were a major reason for the delay.
RPG Maker 2 was an incredible event for the community. In early 2001, we were contacted to give suggestions on what should be in the game. We responded with massive lists of features we wanted, some bordering on the insane. During development, we were fed a steady stream of info directly from Agetec on it's development, learning about features they wanted to implement but couldnt, stuff that had to be removed due to technical reasons, and we were given screenshots of the software still in development, which were stolen from us by ign.com. They denied the theft, despite remnants of our cropped-out watermarks clearly being in every single screenshot.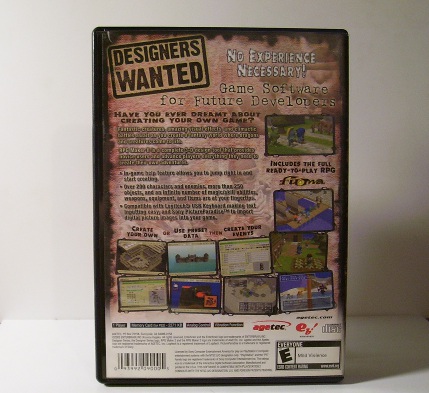 RPG Maker 2 was also the first time the staff at the RPG Maker Pavilion recieved advance copies of the software from Agetec. This was done for two reasons. One, as a "thank you" type thing, and second, as promotion. We would do a far better job of "reviewing" and generating hype for this game than any normal review site. we ate, drank, and breathed RPG Maker.
And then it arrived. Immediately, opinions were divided. RPG Maker 2, due to both Enterbrain's own ambition, and our own requests, was the closest thing you could possibly get to an actual game development platform. It was extremely technical. The structure, the flow of the software, none of it even slightly resembled anything that had come before, even compared to the PC RPG Makers. User-friendliness was sacrificed in exchange for raw power. Only the most dedicated could actually make anything with the software. most people were unfortunately focused on the negative aspects. The blurriness and short draw distance caused by all the system resources being spent on the scripting engine, the maze-like structure of the editor itself. But some stuck with it. Some were able to do amazing things with the software. Our own RPGD was the first in the community to really tap into the power of the VFX engine, and wowed us all with a cinematic teaser of a game that has unfortunately, still not been made. Others, like Brock Nash, dug into the scripting system, and discovered how to assign every button on the controller to a script. Other VFX and scriping masters (
Primarily those at the
Domain of the Nado
) kept digging into it, and everyone eventually realized just how amazing RPG Maker 2 was. It was still too intimidating for most, but people respected it, and some held onto it just to be able to play the games made with it.
The reaction to the game was largely the same in japan. Too intimidating for most people. So Enterbrain, eager to satisfy their fans, broke away from the numbered series again, determined to make the easiest-to-use RPG Maker ever.
- RPG Maker 3 / RPG Tsukuru-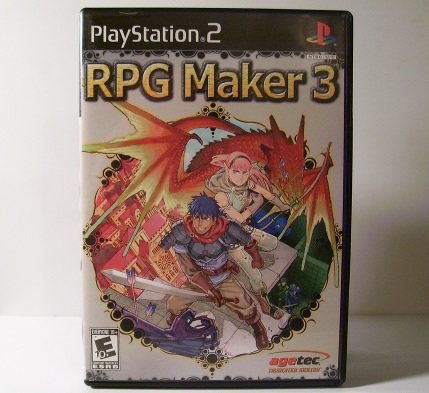 Simply titled "
RPG Tsukuru
", the next installment in the franchise was released on December 16th, 2004. It's the second genre-specific entry, this time being dedicated to medieval RPGs. We knew from the start that it was limited based on coverage from Japan. We assumed that this is why Agetec never mentioned it to us. We assumed it was too basic and limited for them to bother with, and we were okay with that. We had only recieved RPG Maker 2 the previous year. We weren't in any hurry to move on. Then, on April 13th, 2005 amazon.com put up a product page for RPG Maker 3. I e-mailed Agetec with a link to the listing, and a short note saying "
I don't think this was supposed to go up yet
".
Agetec had wanted it to be a big surprise at E3. Denied of that, Mark Johnson from Agetec started posting on the pavilion, telling us all about the software. I was given a massive pile of screenshots from the press kit, which I gave odd captions to and published on this website as a "Preview". Suddenly, everyone wanted it. Misinformation was coming in from a ton of sites from the E3 showing, most due to them not really caring to try and understand it's feature list. "Hard Drive Support" somehow turned into "Downloadale content packs", for instance. Luckily, Intro1, who played it at E3, was able to relay accurate info to us. Even if the misinformation was so overwhelming we didnt know whether to belive him or not at first. Sorry, Intro1.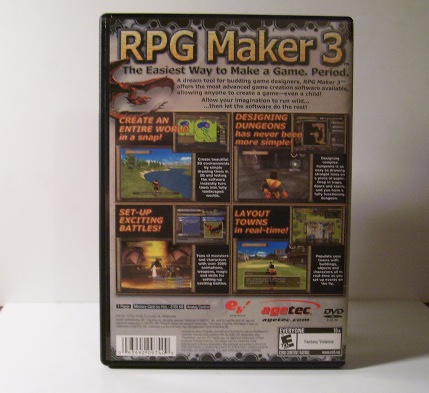 Agetec again supplied the RPG Maker Pavilion with advance copies of the software, along with the RPG Maker Magazine. As the two sites had finally started being friendly, we teamed up to cover it as extensively as possible. Event command lists, screenshots of monsters, character models, video of the game in motion, and reviews of the software were all available from the community almost a full month before the game was released. Feros at the RPG Maker Magazine even went so far as to release the first-ever game for the title, before anyone else even had a way to play it.
RPG Maker 3 was released on September 20th, 2005. This time, people knew what they were getting into, so very few were upset with it. Instead, much to our surprise, the reaction was incredibly positive. the limitations weren't seen as a problem, but rather a way to simplify the game creation process. Many of us were now adults with jobs and actual lives, and limited time, so this was a welcome change. The only true graphic customization in the game is with the field and dungeon maps, very few of the profile images matched any of the character models, the game had a maximum population of 100, but people worked around this. Some wonderful games have been released for it, and they have proven to be very successful. Many games have well over 1,000 downloads , with Vonwert's
Whispers in the Woods
having over 2,000. Despite it's limitations, no one can argue against numbers like those, especially when that's not even factoring the RPG Maker Magazine's download counters for the games.
<
Super Famicom
> <
Sony Playstation
> <
Playstation 2
>
----------------------------------------------------
if you'd like to know more about this first entry in the console RPG Maker franchise, or any of the other titles in this article, they will all have in-depth features available by the end of the year.