History of RPG Maker
Part 2 - Playstation
This new generation of software would expand the customization options far beyond what the Super Famicom titles were capable of, with new bundled "Anime Maker" software that lets the user create their own graphics, along with compatability with the "Ongaku Tsukuru" music creation software.
RPG Maker made the jump to the Playstation on November 27th, 1997 with RPG Tsukuru 3. Agetec would release the title on September 18th, 2000 as RPG Maker.
-RPG Maker / RPG Tsukuru 3-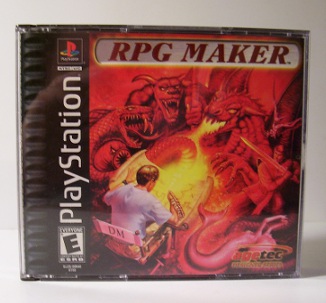 RPG Maker had a bit of trouble getting released. It was actually cancelled once (
people have speculated on the reason, but no one outside of agetec knows for sure
), until enough people spoke up and got it un-cancelled. The desire for this game was huge, and many people had a lot of trouble finding it in stores because it was selling out so fast. EGM and Agetec held a contest with the game, where users would submit games to EGM in an effort to win a PS2. The deadline wasnt that far from the release of the game, so there wasnt a lot of time for anyone to learn the software. Our own Alzar won the contest with his game
Remote Control
.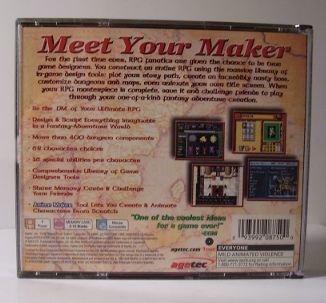 What let RPG Maker really succeed was the Dex Drive, from Interact. The Dex Drive allowed you to copy memory card files to a PC and share them with the world. Many websites were created to host RPG Maker games, with some people even attempting to sell them (
as allowed in the game's royalty-free license agreement
). No one ever managed to sell a single game made with RPG Maker, and only two console RPG Maker sites even exist anymore. The first RPG Maker is still undoubtedly the most popular console RPG Maker title, and even today sees constant development and new releases.
Still based on Dragon Quest, RPG Maker is actually only slightly more powerful than RPG Tsukuru 2. You get more sprites, tiles, and music to make your game with, and the ability to make your own graphics, but there are very few actual additions to the engine, and some things are even more limited
(you can't freely roam your field maps as you could in RPG Tsukuru 2
). While the software didnt offer much over RPG Tsukuru 2, it really didnt matter to the US fans. This was the first shot at game development for most of us. We were happy with what we got, and we loved it.
The next console RPG Maker wouldnt be a numbered installment in the main series, instead it would be the first of two titles that focused on a specific sub-genre, as well as the only multi-platform release in the series.
-Simulation RPG Tsukuru-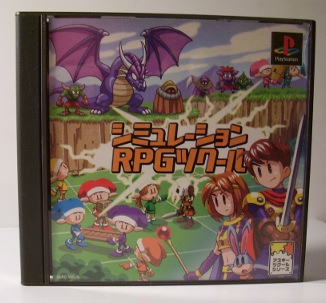 Simulation RPG Tsukuru was released on September 17th, 1998 for both the Sony Playstation and Sega Saturn. Despite what you may assume from the name, this title is a tactical RPG Maker. It takes a completely new approach to it's game creation engine, which results in a very unfamiliar interface for people who have played the previous three installments which were generally all set up the same.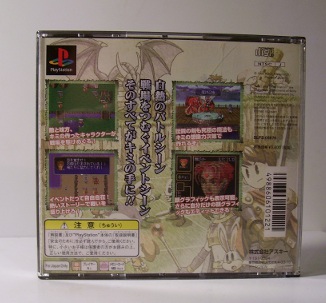 Along with the creation engine changes, the game engine itself has changed to fit the genre. No longer based on Dragon Quest, you see your enemies on the map, clearly marked as "enemy" before you encounter them, and the battles use a side-view with system with up to four characters on each "side". The characters are also animated, to make the battles visually engaging. Possibly because of the animations, Simulation RPG Tsukuru offers very limited graphics customization, being limited to character portraits. You must use existing character sprites, title screens, and enemies.
Simulation RPG Tsukuru, while somewhat popular, didn't have the mass appeal of the more flexible RPG Makers. So for the next installment, they'd return to the numbered series, and wouldn't settle for an incremental upgrade as they had been for the past three titles. They were going to go all out, and handed the series to a new developer, Argent, to do it.
-RPG Tsukuru 4-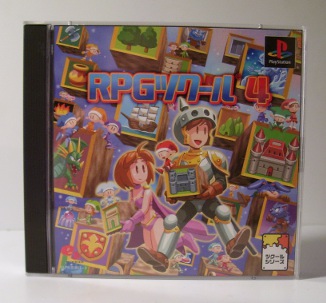 RPG Tsukuru 4 was released on December 7th, 2000. Originally, Agetec had considered releasing this title in the US, but by that time, Argent had moved on and was no longer available to assist with the software, and the game was ultimately skipped in the US. Thus, RPG Tsukuru 4 became "the one that got away", and most US fans knew nothing about it besides what was visible in a few screenshots online. It wasnt until our own feature on the game that all it's secrets were spilled, and the US RPGM community learned that they had missed out on something truly amazing.
RPG Tsukuru 4 has a creation engine that is based on the existing titles, but isnt concerned with mimicking Dragon Quest. Instead, it aims to be a delicious blend of the SNES and PS1 Final Fantasy titles. So, while the creation engines are similar enough for any one who has played the three previous titles to feel right at home, it's much, much more powerful, and deeper than any console RPG Maker that came before.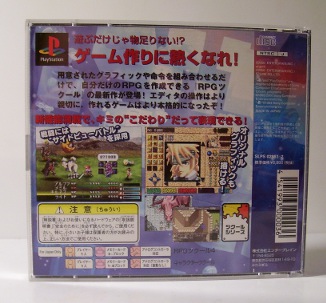 RPG Tsukuru 4 has a side-view ATB battle system, fully animated characters and enemies, CGI summons, variables, graphic layers, portraits, reflection effects, no tile-by-tile movement restrictions, special skill effects, enhanced enemy AI routines, and more. much, much more. It has a second disc dedicated to it's Anime Maker, where you can create characters with multiple animation sets, animated enemies, title screens, and portraits. It's hard to describe this title in such a small space and feel like you're doing it any justice. It is simply the ultimate 2D console RPG Maker, and it's a tragedy that we never saw it released here.
After the release of RPG Tsukuru 4, the Playstation 2 had arrived, and was the next big thing in video games. It was time to move on.
<
Super Famicom
> <
Sony Playstation
> <
Playstation 2
>
if you'd like to know more about this first entry in the console RPG Maker franchise, or any of the other titles in this article, they will all have in-depth features available by the end of the year.