» Max Drive
Max Drive Review
Written by Valkysas
Name: Max Drive
Manufacturer: Datel
MSRP: $30 Standalone, $40 with Action Replay Max
Requirements: Playstation 2, PC/Mac with USB

The Max Drive is the new standard for file transfer devices because of it's ease of use. Unlike the X Port and Shark Port before it, it does not require you to connect your PS2 to your computer, which was their biggest setback.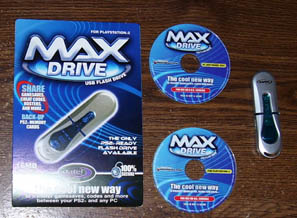 Contents of the Max Drive package
The standard Max Drive comes with a Playstation 2 disc, a PC disc, an instruction manual, and a USB flash drive. You can throw away the PC disc, you don't need it. When you plug your Max Drive into your PC or Mac, it should automatically recognize it as a removable storage device, and you can use it as you would any other storage medium. The PC software only serves to over-complicate things.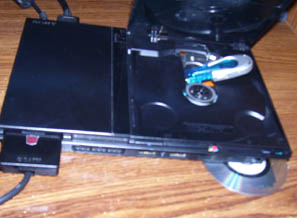 How to improperly set up the Max Drive


To use the Max Drive, insert the flash drive into one of the PS2's USB ports, then insert the PS2 disc. If you don't have a slimline PS2, you'll need to lay your PS2 flat, or the disc will just rattle around inside the console. When the software loads, it will attempt to bombard you with advertisements. Just press the X button to bypass them. From here, you get the device selection. your first time using it, select the PS2 memory card.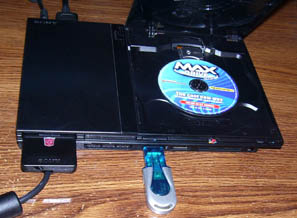 How to properly set up the Max Drive



Once selected, you will have a list of every file on your memory card. now, even though the Max Drive software allows you to select and work with multiple files at once, it has a bad habit of completely corrupting your memory card when you do this. So just select and use one file at a time. Another note, never use the "move" command. this also has a bad habit of corrupting the memory card. Just stick to "copy". Once a file is copied to the flash drive, it will undergo a compression method called "crushing". This can take a 2 MB RPG Maker 2 file, and drop it down to 1/4 of it's previous size. So really, you can fit around 4 memory cards worth of saves onto one 16 MB Max Drive. To send a file from the flash drive to your memory card, just select it at the device selection menu. find a save, and use the "uncrush to.." command to decompress it and copy it to the memory card. I also must stress that you cannot use the Max Drive to move or manage PS1 saves. It will corrupt them instantly.

Just so there's no confusion, these are the things you should not do with the Max Drive software.
Use the "move" command
Select more than one file at a time
Use the software to delete files from the flash drive or memory card
If you fail to follow these instructions (and sometimes even if you do), you may find one or more files on your memory card corrupted. If individual files are corrupted, you will have to delete them. If your entire card is corrupted, highlight the memory card in the device manager menu, and press the square button to bring up the re-format command.

Note that you do not need to use the flash drive that comes with the max drive software. Any USB flash drive will do, or even a PSP in USB mode.
» Recent Submissions
Watch Grass Grow 2
May 09, 2013 - 7:19 PM - by MRevelle83
... [Read More]
3,916 Views
(Demo) MIDDLE STORY
Jan 20, 2012 - 10:55 PM - by Deeth Irteen
... [Read More]
5,402 Views
(Demo) PROJECT VIRAL 2 - Outbreak! (Sequel to the Survival Horror)
Dec 21, 2011 - 6:51 PM - by obsorber
... [Read More]
5,029 Views
PROJECT VIRAL - (A Survival Horror)
Dec 21, 2011 - 6:02 PM - by obsorber
... [Read More]
4,676 Views
Eternal Grace Episode 1
Apr 14, 2011 - 11:39 PM - by jasprelao
... [Read More]
6,907 Views
DIVIDED INFINITY
Dec 16, 2010 - 11:47 PM - by Madurai
... [Read More]
7,260 Views
MEGAMAN Gx
Oct 14, 2010 - 12:07 AM - by MegamanGX
... [Read More]
4,514 Views
Simple Man's Quest for the Playground
Aug 29, 2010 - 2:27 AM - by Ryner
... [Read More]
4,267 Views